Audio Samples
| Track | Play | Save |
| --- | --- | --- |
| Rap Assassin | | |
| God's Plan Remix | | |
| Prolly Drunk | | |
| Lighters Up (Van City Anthem Remix) | | |
View all tracks (4)
no upcoming shows listed (solo, or for current projects)
Tue. September 18th 2018
Summer Isn't Over Yet
Global Party Starters
,
Apheenx
,
Dtour
,
Rino
,
Kapok
,
Swabski
,
Daybreak
Daybreak
Label: Independant
Old-school Hip-Hop with a Modern Twist from Vancouver BC
Instruments: Vocals (Rap/Hip-Hop), Composition/Songwriting
details
Canadian Hip-Hop Artist Daybreak (aka the Rap Assassin) hails from Victoria, British Columbia and currently operates in Vancouver. His style embraces an old-school mentality when it comes to lyrics and flow and the music itself is hard-hitting and catchy with big, pounding drums being the cornerstone of a typical Daybreak track. His subject matter ranges from bootlegging black market liquor during Prohibition era to ancient Samurai code and to all other aspects of life, death and the great beyond. Citing influences such as Wu Tang, Jedi Mind Tricks, Nas, Xzibit, Beastie Boys and so many more, Daybreak's main objective is to constantly evolve as a rapper and combine his many influences into a single voice to spread the message that quality Hip-Hop is alive and well in this era.

Daybreak has a storied career in music and broadcasting up to this point, including past performances in Vancouver with such artists as SonReal, Moka Only and Josh Martinez. The majority of his career however, took place in Asia where he relocated in 2008. Involvement in the Asian entertainment industry began in Beijing, where Daybreak was chosen as a model and brand ambassador for Swiss fashion brand Strellson. He also went all around China to meet and collaborate with Chinese musicians from the remotest corners of the country and the end result was the soundtrack to a television program made about the journey on Beijing's Travel TV, which Daybreak personally composed.

After making a mark in China, Daybreak relocated to the heart of the Asian entertainment industry, Seoul city in South Korea. There, he studied Korean Hip-Hop and learned to rap fluently in Korean. This led to him appearing alongside top Korean Rap star and one of the fastest rappers in the world, Outsider, as they performed his chart-topping song 'Longer' together on the popular Korean program Star King. Appearing on such a big stage opened up other opportunities and Daybreak began hosting TV programs in Korea and he also released the single and music video for his Korean-language song 'Spice Fight', also known as 덤벼.

After a meaningful career overseas, Daybreak has returned to Vancouver to focus solely on Hip-Hop music. Since arriving at the beginning of 2017, Daybreak has collaborated with accomplished crew Global Party Starters to release two singles as well as several remixes. 'Prolly Drunk' is a party song about thriving during Prohibition by distilling Gin in the basement and holding massive underground parties while staying one step ahead of the fuzz. 'Rap Assassin', his second single, pays tribute to Old School Hip-Hop and classic Samurai movies and displays the technical side of Daybreak's rap flow. Daybreak has also released remixes of songs by Lil Kim, Drake and Future and has two new singles on the way: 'Beast Mode' in collaboration with Canadian producer Yard Times and 'Poison Clan', composed by Greek producer Retrobeats.
Audio Samples
| Track | Play | Save |
| --- | --- | --- |
| Rap Assassin | | |
| God's Plan Remix | | |
| Prolly Drunk | | |
| Lighters Up (Van City Anthem Remix) | | |
View all tracks for this artist (4)
Available for paid gigs
Available for serious projects

Videos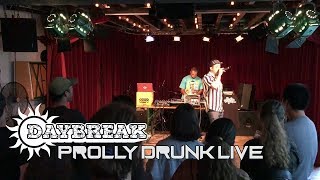 Posted: Aug. 20, 2018
Filmed: Jul. 22, 2018
Listing last updated/confirmed Aug. 20, 2018